A photo of a heavily pregnant woman fleeing a bombed maternity hospital became one of the most iconic images of the war in Ukraine. But its subject was targeted by an extraordinary Russian disinformation campaign and she received hate from both sides.
Wrapped in a duvet with her forehead bloodied, Marianna Vyshemirsky's image was seen around the world.
The photo above was taken in the aftermath of a Russian airstrike in Mariupol. It circulated online, on newspaper front pages, and was argued about at the UN Security Council.
But, having survived one attack, Marianna faced another onslaught – of disinformation and hate aimed at her and her family.
As Russia attempted to sow falsehoods about the attack, 29-year-old Marianna was falsely accused of "acting". Russian diplomats even claimed that she had "played" not one, but two different women.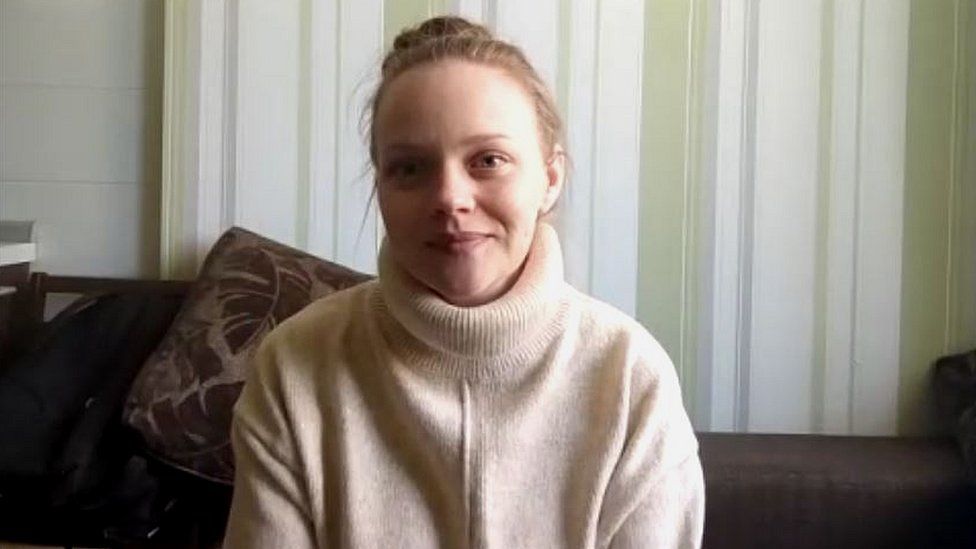 I've spoken extensively to her friends and relatives, but have been trying to interview my namesake for weeks. So when she finally appears on my screen on a video call, it feels a little surreal. She tells me about her harrowing escape, and about the online abuse that came after.
"I received threats that they would come and find me, that I would be killed, that my child would be cut into pieces," she says.
This is her first interview with a major western media outlet after being evacuated to her hometown in a part of Donbas controlled by Russian-backed separatists.
Marianna seems at ease, and is speaking to me without any preconditions, but a pro-separatist blogger is with her.
She tells me what it's like to find herself inside an information battle – all while giving birth to her daughter Veronika in a war zone.
"She chose to show up at a difficult time," she explains, "but it's better she arrived under these circumstances than not at all."
'Things were turned upside down'
Life in Mariupol was very different before the war. Marianna promoted beauty products on social media, while her husband Yuri worked at the Azovstal steel works.
"We had a quiet and simple life," she says, "and then, of course, things were turned upside down."
Her Instagram account shows her excitement at the prospect of becoming a mother.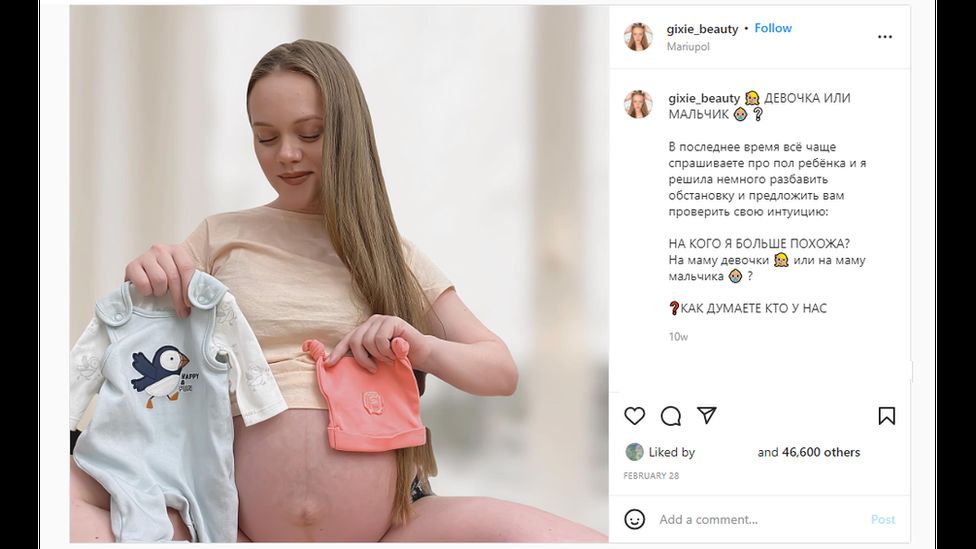 But by the time Marianna was admitted to hospital, Mariupol had become the most bombed city in Ukraine.
On 9 March, she was chatting with other women on the ward when an explosion shook the hospital.
She pulled a blanket over her head. Then a second explosion hit.
"You could hear everything flying around, shrapnel and stuff," she says. "The sound was ringing in my ears for a very long time."
The women sheltered in the basement with other civilians. Marianna suffered a forehead cut and glass fragments lodged in her skin, but a doctor told her she didn't need stitches.
What she did need, she explains, was to retrieve her possessions from the ruins of the hospital. She asked a police officer to help her back inside.
"Everything I had prepared for my baby was in that maternity ward," she says.
While she stood outside the hospital, waiting to recover her things, she was photographed by journalists from the Associated Press. They snapped her again as she descended the stairs exiting the building.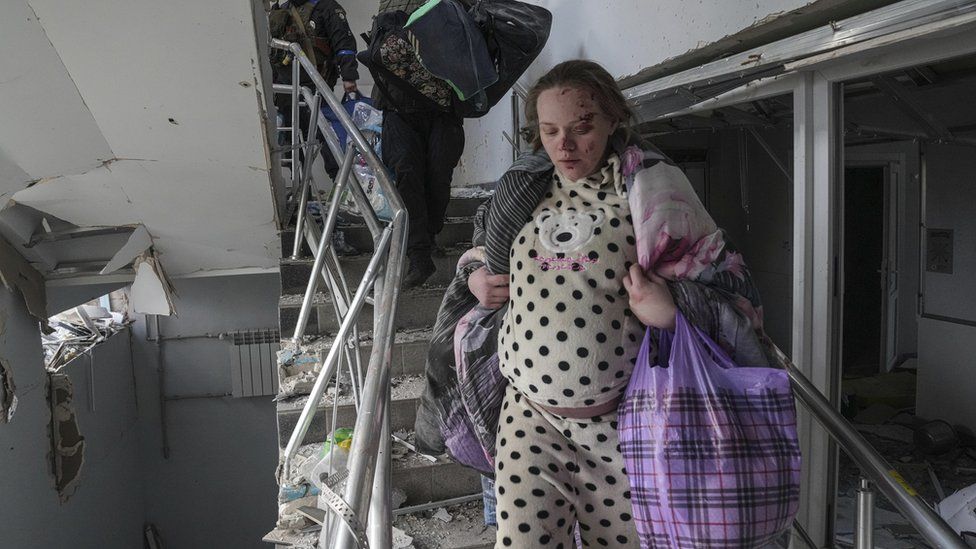 Those images quickly went viral. And that's when false allegations that the pictures were "staged" first appeared on a pro-Kremlin Telegram channel. Marianna's beauty blogging was used to suggest she was an "actor" who had used makeup to fake injuries.
These falsehoods were repeated and amplified by senior Russian officials and state media.
They even claimed that a photo of another pregnant woman on a stretcher was also Marianna, even though it's clear that the photos are of different people. The woman on the stretcher and her unborn child later died from their injuries.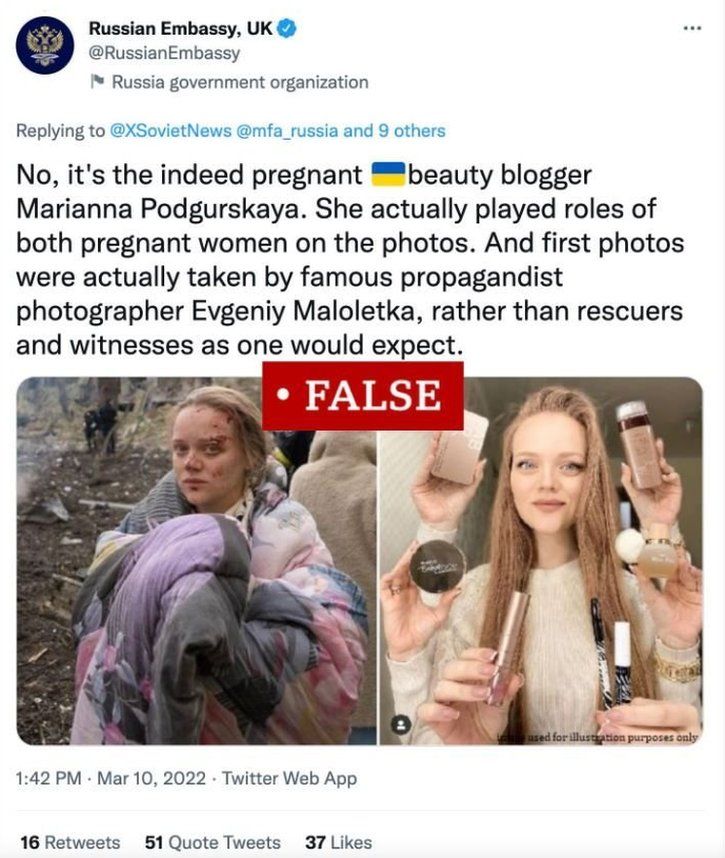 Fleeing and without internet access, Marianna didn't see those images until days later.
By that point, her Instagram was inundated with accusatory and threatening messages. She found both the trolling and the false allegations shocking.
"It was really offensive to hear that, because I actually lived through it all," she says. But she refrains from directly criticising the Russian officials who spread the false information about her.
Instead, she criticises the Associated Press.
"I was offended that the journalists who had posted my photos on social media had not interviewed other pregnant women who could confirm that this attack had really happened."
She suggests this may help explain why some people "got the impression that it was all staged". But by Marianna's own account she was one of the last patients to be evacuated, and that was when the AP journalists arrived. The journalists interviewed other people at the scene. And they had nothing to do with the subsequent false story spread by Russian officials. We approached the AP for comment.
In the days after the attack, Marianna gave birth to Veronika in another hospital.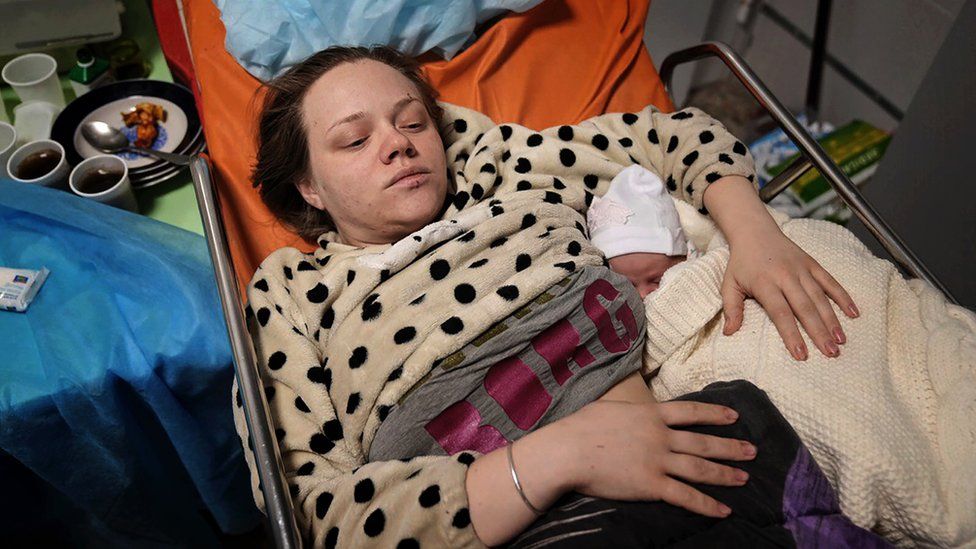 Like thousands of others, Marianna and Yuri were desperately trying to escape Mariupol. For weeks, it was largely impossible to make contact with them. Eventually Marianna's relatives told me the couple had got out of the city, but their whereabouts were unclear. Then in early April, they resurfaced in the Donbas region.
She filmed an interview with Denis Seleznev, a blogger who is a vocal supporter of Russian-backed separatists. There was speculation how free she was to say what she wanted.
Marianna says to me: "I had to describe the whole situation, as I saw it with my own eyes."
My conversation with her was also arranged via Denis. Marianna speaks to me from his home. He is present throughout our chat but doesn't interrupt. Marianna's relatives and friends have assured me she is now safe.


Piecing together the truth
Much of what she says in her interview with me undermines the Russian government's mistruths.
The Kremlin wrongly and repeatedly suggested the hospital that was attacked was Mariupol's hospital number one, and that it was no longer operational.
But the BBC's disinformation team identified the hospital where Marianna was – hospital number three.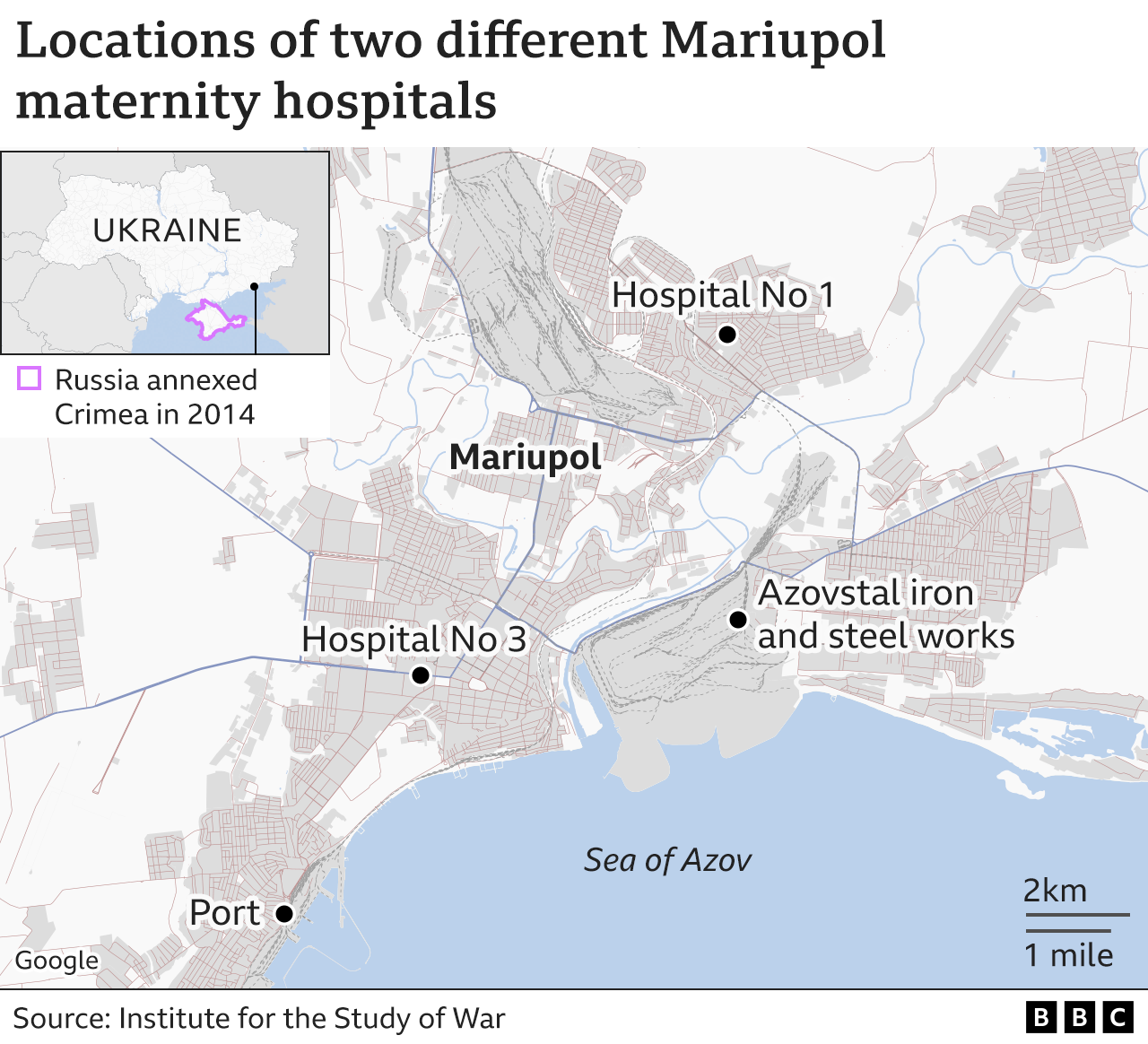 We contacted the Russian Embassy in London for comment.
Marianna confirms that the hospital was definitely treating her and other patients – contrary to Russian claims that it was not functioning as a health care facility.
Russia also claimed that the hospital had been taken over by the Azov regiment – the controversial Ukrainian nationalist group that has been linked with neo-Nazis, allegations they themselves deny.
Comments Marianna made in her interview with Denis were cherry-picked by Russian officials to claim soldiers forced Marianna and the other pregnant women to act as human shields.
But Marianna told me there were no Ukrainian military stationed in the building where she was. She says she saw Ukrainian soldiers in the oncology unit in the building opposite the maternity unit. It's unclear whether they were based there or not.
Nevertheless, Marianna's interview with Denis Seleznev was used by the Kremlin to suggest further falsehoods.
Russian officials have seized on her comments that she doesn't believe the explosions at the hospital were caused by an airstrike, implying that the damage was Ukrainian shelling.
"The typical sound a plane makes when it flies overhead is impossible to miss," Marianna tells me, saying that she did not hear one.
But here she is mistaken. The AP journalists documented evidence it was an airstrike, including video where a plane can be heard. At the scene both a soldier and a police officer say the attack was an airstrike.
Also visible in photos is a huge crater which munition experts say could only have been caused by an airstrike.
"I personally did not see this crater, but I saw the video of it," Marianna says. "In reality I can't blame anyone – because I didn't see with my own eyes where for certain [the explosions] came from."
This fresh controversy sparked a new wave of online vitriol.
"Some people said that I was an actress, others said that I was lying about the fact that there were no air raids," she says.
Even some she regarded as friends don't believe her. Fellow beauty blogger Yaroslava lives in Russia and continues to believe state TV claims that Marianna was acting.
"I think that Marianna played her part. That Ukraine needed the Ukrainian military to blame everything on Russia." Yaroslava told me. She's since unfollowed Marianna on Instagram – and doesn't want to speak to her again.
"It's a pity when people I know believe in something that I haven't done," Marianna says.
But she brightens whenever the conversation turns to baby Veronika.
Marianna has returned to blogging and in a recent post told readers to stick around if they were interested in "cosmetics, nappies and the everyday life of a new mum".
Her message to those who want to send her hate was "go in peace".
But unwillingly finding herself at the centre of an information war – as the military conflict continues – has changed Marianna's life forever.
"You know, for now I'm not thinking about my hopes or making plans, because we don't know what tomorrow will bring."