Present history of RA southern capital Kapan continues to be closely connected with Kapan Mining Combine (now it's called "Chaarat Kapan" CJSC). The combine is considered to be a town-forming company. According to eyewitnesses, Kapan was a small tоwn decades ago without high-rise blocks and buildings, electricity and water supply system, and along with development of mining industry Kapan began to be built, population increased, the majority of which used to work in the Combine. The results of Kapan Combine favorably influence on general development of the community and afford an opportunity to use cooperation in favor of solution to numerous problems arisen in the community.
It's already a year since the Combine which is the major employer of Kapan has had new owner, British "Chaarat Gold International Limited" company which owns assets in the Kyrgyz Republic as well. The company operates Shahumyan gold-polymetallic deposit located in Syunik region through underground method. It produces copper and zinc concentrates with gold and silver content.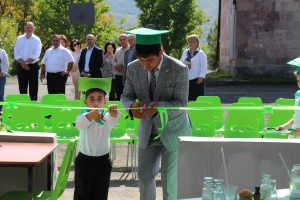 The opening of a new class in Geghanush secondary school
Summarizing the implemented projects of previous year at the beginning of each year the Combine considers its participation in the solution of community problems one of the most important and prioritized factors in his activity.
Contribution the Combine had to Kapan in 2019 is shown below:
Paving the way for a prosperous future   
Women's health department of Kapan medical center Kapan polyclinic has been renovated this year after 30 years of break. The Company taking personal charge of capital works of the department, handed it over to community with totally changed and comfortable conditions. The Company carried out capital works in other departments of the policlinic as well, which will be continued this year. Another initiative is going to end soon, capital repair of Kapan School of Art and Music N2 building. The Combine repaired kindergarten in Geghanush community for local inhabitants to have a kindergarten in the village, open air classroom was built in the school of the same village giving pupils and teachers an opportunity to conduct a lesson in a more interesting way, it's also planned to build a green-house in the same school.
One of the most important initiatives commencing in 2019 is the project of capital construction of pre-school facility in 16 Lernagortsner address of Kapan due to which Kapan community will have the one and only multifunctional and comfortable pre-school facility in region.
The Company has also implemented a number of charity events during the year, paying particular attention to war veterans, company previous employees, the old people living in the community and children from disadvantaged families and with health issues.
Company and the youth of the community together conduct programs to ennoble historical monuments
Long-term projects for the good of community development
"Company implemented social projects in 2019 which were mainly aimed at improvement of children's life and development of future, we consider it one of the most significant factors of our activity and still Chaarat Kapan develops its activity here and the Company has long-term projects for Armenia we will continue to improve our children's future and community's life, to participate in social-economic development of Armenia", -says Davit Tovmasyan, General Director of "Chaarat Kapan" Company.
It's essential Chaarat Kapan is the major employer of the community (1120 employees, including 300 contractors, work in the Company at present), where almost all employees, including the management staff, are local.
Company GM David Tovmasyan and Mayor of Kapan Gevorg Parsyan signed a Cooperation Agreement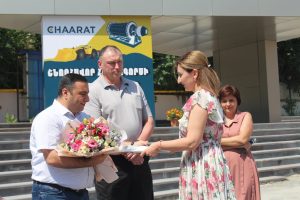 Award ceremony of company employees on the Miners` and Metallurgists` Day
Company General Director touching upon the planned projects of 2020, mentioned new projects will be realized within a framework of community-company cooperation the effectiveness of which will influence on each inhabitant living in the community.
Along with social projects Chaarat Kapan has also planned large investments for the Company, which are acquisition of new equipment aiming to improve working conditions.
Talking about mining industry we cannot but touch upon issues of nature protection.
"As for issues of nature protection we work in accordance with established environment policy, performing daily consistent works we apply the best international practice to minimize the impact on environment resulting from Company operation", said Davit Tovmasyan.
You can learn about "Chaarat Kapan" Company projects through company official site and Facebook at the following link:
The capitally renovated female health department of Kapan Medical Center clinic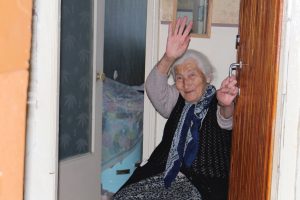 Older Persons in the Focus of Attention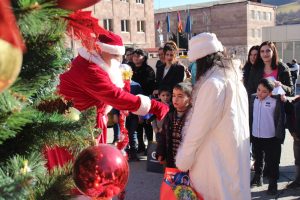 Charity event "New Year's Dream"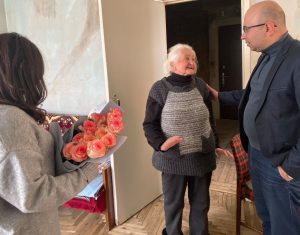 Visiting employees who have worked at the company for many years